ABC Fire Safety
About Us
908-259-9200 / 908-259-9110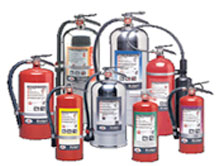 ABC Fire & Safety is proud to say that we've been in business and serving the fire and safety needs of Union County and the entire tri-state area for over 35 years. Our reputation for excellence in service and quality equipment is unparalleled in the Commercial and Residential Fire Protection industry. We are authorized dealers and distributors for top brands such as Badger, Range Guard, FireTrace. From fire extinguishers to sprinkler systems, to kitchen suppression systems we do it all! Designing, inspecting, testing and maintaining-every area of fire and safety protection is our specialty and no other company can compete with our expertise and prices.
Here are just some of the many brands, products and services that we offer:
Fire extinguishers - services & sales, FREE on site surveys, Same day service, Code violations, Kitchen systems, Inspections & repair, Mobile recharging service.
ABC Fire Safety Clients
Local Professionals and Businesses:
Bertram Associates Union, NJ
Blackstone Group LLC Newark, NJ
Boulevard Veterinary Clinic Kenilworth, NJ
Faithful Christian Academy Hillside, NJ
Ferraro's Restaurant Westfield, NJ
Gold Coast Arena Neptune, NJ
Hundal Group Realty Union, NJ
Maple Crest Realty Hoboken, NJ
Middletown Diner Middletown, NJ
Old Bridge Township Old Bridge, NJ.
Corporate/Commercial/Educational:
Bloomfield College
Crown Plaza Hotel
Elizabeth Board of Education
Eva's Village
FMI Trucking
H&R Block
LaFarge North America
Mack-Cali Real Estate Management
Maher Terminals
Purepac/Actavis
Trinitas Hospital
Comcast Cable
Verizon/Unico
Warnock Dodge.